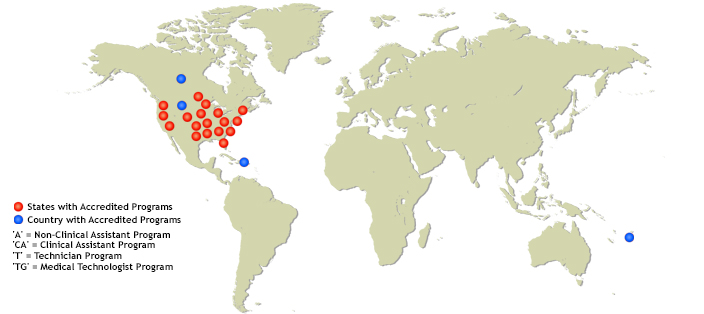 CoA-OMP has changed its name to the International Council of Accreditation (ICA)
Programs that have a degree have been identified. Programs without a formal degree usually provide students with a certificate of completion.
*Initial approval may be granted to new programs that have not yet completed the accreditation process before the first class of students graduate. Initial approval will grant the first graduating class eligibility to apply to take the IJCAHPO certification exams. Initial accreditation is valid for one year.
CANADA
Centennial College (A)
Ophthalmic Medical Personnel Program
941 Progress Avenue
Toronto, ON, CANADA M1G 3T8
Phone: 416-289-5000
FAX: 416-694-5589
E-mail
Website
Carole Panton, OC(C), Program Director

Institute of Paramedical Training in Eye Health
Assistance Technique en Santé Oculaire
10138 Rue Lajeunesse, Bureau 402
Montréal, Québec CANADA H3L 2E2
Phone: 514-346-2022
Email
Website
Claire Ouellette, MBA, CMC, COA, OCc, Adm A

IWK Health Centre/Dalhousie University (TG)
IWK Health Centre/Dalhousie Clinical Vision Science Program
Eye Clinic, 6th Floor
PO Box 9700
5850/5980 University Ave.
Halifax, NS, CANADA B3K 6R8
Phone: 902-470-8019
FAX: 902-470-7207
E-mail
Website
Darren Oystreck, PhD, OC(C), COMT
Contact: Dawn Pickering, BSc, OC(C), COMT, CLVT, Coordinator
Kingston Ophthalmic Training Centre (T & TG)
Department of Ophthalmology
Hotel Dieu Hospital
166 Brock Street
Kingston, ON, CANADA K7L 5G2
Phone: 613-544-3400 ext. 2421
FAX: 613-544-3991
E-mail
Website
Newton Duarte Filho, MD and Hailey Simpson, COMT, ROUB, CDOS

Stanton Territorial Health Authority (TG)
Ophthalmic Medical Technologist Training Program
Stanton Eye Clinic
P.O. Box 10
Goga Cho Building, 47th Street
Yellowknife, NT, CANADA X1A 2N1
Phone: 867-873-9285
FAX: 867-920-7992
E-mail
Kent Rose, COMT

University of Ottawa Eye Institute (TG)
Honours Bachelor of Science in Ophthalmic Medical Technology
The Ottawa Hospital
General Campus
501 Smyth Road
Ottawa, ON, CANADA K1H 8L6
Phone: 613-737-8362
FAX: 613-737-8836
E-mail
Website
Maria Carla Blackburn, B.Sc., COMT, ROUB

United States
ACCREDITED PROGRAMS ALPHABETICAL BY STATE
ARIZONA
GateWay Community College (A)
1245 E. Buckeye Road
Phoenix, AZ 85034
Phone: 602-238-0088
E-mail
Website
Heather Barnes, COA, OSC
CALIFORNIA
Southern California Eye Institute *In the process of accreditation
Ophthalmic Technician Program
CHA Hollywood Presbyterian Medical Center
1300 North Vermont Avenue
Los Angeles, CA 90027
Phone: 323-906-6058
E-mail
Joseph D. Cocozza, Ph.D.
OTEP Director
COLORADO
Pima Medical Institute - Denver (T)
Ophthalmic Medical Technician (Associate of Occupational Science)
7475 Dakin St.
Denver, CO 80221
Phone: 303-426-1800
E-mail
Website
Dimitra Triantafilou, CO, COT
CONNECTICUT
Housatonic Community College (A)
900 Lafayette Blvd
Bridgeport, CT 06604
Phone: 203-332-5057
E-mail
Website
Scott Spector, MD
DISTRICT OF COLUMBIA
Georgetown University (A, T, & TG)
Ophthalmic Medical Personnel Training Program
3800 Reservoir Rd. NW,
Dept. Ophthalmology LL-PHC
Washington, DC 20007
Phone: 202-444-4862
Fax: 202-444-1417
E-mail
Website
Dana Stroud, COT
FLORIDA
Palm Beach State College (TG)
Ophthalmic Medical Technology Program (Associate in Science Degree)
Center for Innovation in Health Sciences
CIH102 Mailstop #45
3205 RCA BLVD
Palm Beach Gardens, FL 33410-2893
Phone: 561-207-5010
E-mail
Website
Mark McKay, CDO
ILLINOIS
College of DuPage (CA, T) *T in the process of accreditation
Eye Care Assistant Program and Ophthalmic Technician AAS Program
425 Farwell Blvd
Glen Ellyn, IL 60137
Phone: 630-942-8398
E-mail
Eye Care Assistant: Website
Ophthalmic Technician: Website
Mitzi Thomas, BPS, COMT

Triton College (T)
Ophthalmic Technician (Associate of Applied Science)
2000 5th Avenue
River Grove, IL 60171
Phone: 708-456-0300 ext. 3934
E-mail
Website
Lisa Maas, COT

LOUISIANA
Delgado Community College (CA)
Ophthalmic Assistant Program
Allied Health Division
615 City Park Ave, Bldg #4
New Orleans, LA 70119-4399
Phone: 504-289-4432
E-mail
Website
Francesa Langlow, EdD, COA
MICHIGAN
Henry Ford Community College (T)
Ophthalmic Technician Program
5101 Evergreen Road
Dearborn, MI 48128-1495
Phone: 313-845-9877
E-mail
Website
Kathy Campbell, DHA, COT
NORTH CAROLINA
Asheville-Buncombe Technical Community College (CA)
Ophthalmic Clinical Assistant Program
340 Victoria Road
Asheville, NC 28801
Phone: 828-398-7936
E-mail
Website
Vicki Diane Lewis, COMT
Caldwell Community College (CA)
Ophthalmic Medical Assistant Program
2855 Hickory Blvd
Hudson, NC 28638
Phone: 828-759-4248
Fax: 828-726-2489
E-mail
Website
Faith Race, COT
Central Piedmont Community College (CA, T)
Ophthalmic Medical Assistant Program
PO Box 35009
Central Campus, Belk 1104
Charlotte, NC  28235
Phone: 704-330-2722 ext. 3444
E-mail
Website
Kathleen Rodgers, COT
Duke University School of Medicine (T)
Ophthalmic Medical Technician Training Program
Box 3802
2351 Erwin Rd
Durham, NC 27710
Phone: 919-681-9157
E-mail
Website
Lee Ann McKinney, COT
Sandhills Community College (CA)
3395 Airport Road
Pinehurst, NC 28374
Phone: 910-695-3937
E-mail
Website
Alberta Purvis, LPN, COMT
OKLAHOMA
Metro Technology Center (CA) *In the process of accreditation
Eye Care Technologies
1900 Springlake Drive
Oklahoma City, OK 73111
Phone: 405-595-4678
E-mail
Website
Martin Orozco, Jr., COMT, OSC
Tulsa Technology Center (CA)
Vision Care Technology
Health Careers Centers
PO Box 477200
Tulsa, OK 74147
Phone: 918-828-1200
E-mail
Website
Kim Howard, COT
OREGON
Portland Community College (T)
Ophthalmic Medical Technology (Associate of Applied Science)
705 N. Killingsworth St.
Portland, OR 97217
Phone: 971-722-5666
E-mail
Website
Ellie Bessarab, COT, OSC
TENNESSEE
Volunteer State Community College (T)
Ophthalmic Technician Program (Associate of Applied Science)
1480 Nashville Pike, Annex 400, Rm 104A
Gallatin, TN 37066
Phone: 615-230-3723
E-mail
Website
Alisha Cornish, OD, COT
Vanderbilt University Medical Center (T) *In the process of accreditation
Ophthalmic Technician Program
2311 Pierce Ave
Nashville, TN 37232
Phone: 615-936-0133
E-mail
Website
Homise W. Johnson, COMT
TEXAS
Medical Education and Training Campus (METC) (A)
300-68 WP3 Eye Specialty Course
3176 Cpl Johnson Road Bldg 1291
Fort Sam Houston, TX 78234
Phone: 210-808-3775
E-mail
Website
Brian Blanchard, Lt Col, USAF, BSC, FAAO
San Jacinto College (T)
EyeCare Technology (Associate of Applied Science Degree)
8060 Spencer Highway
C11-1010
Pasadena, TX 77505
Phone: 281-478-3606
E-mail
Website
Debra Clarke, COT, OSC, NCLE-C, ABO-C
South Texas ISD for Medical Professions (A) *In the process of accreditation
Ophthalmic Assistant
10650 North Expressway 77/83
Olmito, Texas 78575
Phone: 956-214-6100
Website
Gloria Garza, COA
Southwest University at El Paso (T) *In the process of accreditation
Ophthalmology Technician Program (Associate of Applied Science)
1414 Geronimo Dr
El Paso, TX 79925
Phone: 915-778-4001
E-mail
Website
Mario Di Pascuale, MD
St. Philip's College (CA)
Vision Care Technology
1801 Martin Luther King Dr
San Antonio, TX 78203
Phone: 210-486-2665
E-mail
Website
Syed Parvez, COT, OSC
Tarrant County College (A, CA, T) *CA and T programs in the process of accreditation
Trinity River Campus
300 Trinity Campus Circle, TRTR-3410A
Fort Worth, TX 76102
Phone: 817-515-1044
E-mail
Website
Suzanne Hansen, MEd, COMT, OSC
Tyler Junior College (A)
Vision Care Technology
1500 E. Fifth St.
Tyler, TX 75701
Phone: 903-510-2020
E-mail
Website
Steve Robbins, ABOC, NCLC
WISCONSIN
Madison Area Technical College (CA)
Ophthalmic Clinical Assistant Program
1705 Hoffman Street
Madison, WI 53704
Phone: 608-246-6557
E-mail
Website
Angela Gray, COMT
FIJI
Pacific Eye Institute (CA)
Suva Fiji
GPO Box 18641
Phone: 679-368-4075
FAX: 679-332-4360
E-mail
Website
Ashreeta Devi Lingam

PUERTO RICO
University of Puerto Rico (T)
Ophthalmic Technology Program
Medical Sciences Campus
PO Box 365067
San Juan, PR 00936-5067
Phone: 787-758-2525
FAX: 787-751-0636
E-mail
Website
Alex Soto Vega, COT